dead xbox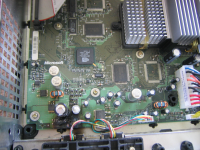 After years and years of service, it looks like it is now time to retire my XBOX. One of the capacitors soldered on the motherboard has blown out and charred the board and a few components around it.
It seems like yesterday when I first got my hands on my xbox... I remember I immediately opened it up (thereby voiding the warranty, a potentially very expensive proposition) and softmodded it on the same day I bought it.
I was afraid that I would fry the hard drive and brick the xbox, because the softmodding procedure involved disconnecting the xbox harddrive while on and connecting it to a PC to get write access to it, but it worked. I also replaced the internal hard drive with a 120GB drive (a massive hard drive at the time).
The whole reason I wanted an xbox was to use it as media center and run XBMC on it.
To this day, I think nothing beats a softmodded xbox with XBMC on it. It can do everything, and more! It can play any video or audio file, whether it is located on a CD, on the hard drive, on a network or streamed from the internet.
Its interface is very sleek and extremely functional. It makes every operation a breeze, whether it's playing a set of mp3 files while displaying a slideshow of the last holiday's photos, or checking the latest weather forecasts before watching the movies I downloaded to a samba share a few hours ago.
It does it all, and it is that good!
Check out some of these videos couple of video showing XBMC in action.
I'll be looking out for a cheap xbox on ebay to replace the loss....