surfing in rossnowlagh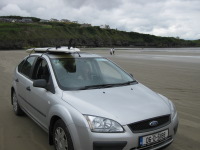 Rossnowlagh. Wala and I have been there. We surfed, ate vast seafood platters, drank refined wine, walked the beaches. We spent two wonderful days there, but we still don't know how to pronounce the town's name!
What a wonderful spot it is. Just north of Bundoran, it is one of the best spots in the Irish surfing mecca that is Donegal county.
We couldn't have been luckier than that, since the waves were just the right size to allow us to improve our tecnique and also have great fun! The weather also played nice, with a dry, warm day, which opened up into a lovely sunny evening.
Our B&B, Ard Na Mara, was perfectly positioned, perched atop a cliff by the side of the surfing beach of Rossnowlagh. Next door, the famous Smugglers' Creek pub offered good food and good craic. After a lovely dinner overlooking the beach, we concluded the evening with a nice bottle of Prosecco, taking in the views of the bay and the ocean in the distance.
Our B&B host was so nice to extend our checkout time to after midday, which allowed us to cram in another surfing session on the Sunday morning. The swell was smaller at first, but then picked up as the tide went out.
Both myself and Wala caught a lot of waves and rode them to the sandy end! Awesome, dude!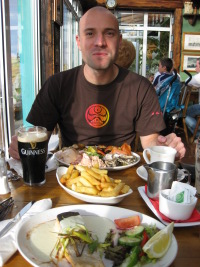 On our journey home, we stopped at a nice hotel right by a lake for some food. We ended up eating a disproportionate amount of meat. A joyful chef carved out a massive lamb portion (which we asked for), and then proceeded to carve bits of turkey and ham, and topped up with stuffing and a generous serving of vegetables. We were completely stuffed. We looked at the boats skimming the lake's surface for a while, before getting back on the road.
By the way, I wonder if there is a way to fix soft surfboard racks to the car in such a way that they don't rattle once you drive over a certain speed... On the way there, the racks rattled between 60 and 90 km/h, whereas on the way back, they rattled over 100km/h. Weird. Must search the collective hive mind that is the Internet to find out more.