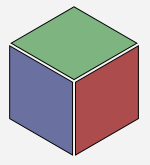 Welcome to multithread.org
You are encouraged to engage in as many activities as you possibly can whilst on multithread.org.
A word of warning before you start multithreading through the pages of this website... do not take anything here too seriously!
This site exists to further the incontrovertible truth that not doing fewer than one thing at once is good for you. This site also exists to provide a place for my ramblings to be written down and my thoughts to be cast into timeless pixelated glyphs.
Enjoy your stay and, remember, if you are doing more than one thing at once, you will never suffer from boredom.