tracked by satellites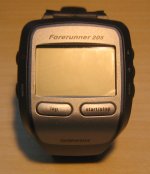 I recently bought a Garmin Forerunner 205 high-sensitivity GPS receiver and personal trainer to help me keep track of my running sessions.
It's a great device! I have used it a few times and I am very pleased with it. Although it can't quite disguise itself as a normal wrist watch, the device is very small, compact, and light. It is definitely much lighter than my traditional watch I wear every day.
The Forerunner 205 is an evolution over the 201 model. The 205 has its GPS antenna around part of the wrist for a better view of the sky, and its high sensitivity GPS receiver provides improved tracking under trees and near tall buildings.
The 205 has a number of advanced features, including the courses feature, which lets you compete against previous workouts: you can compare your pace over your entire workout to your past performance over the same run.
You can also plan, analyze and store data from your workouts, and then analyze data with interactive graphs that chart your pace, time and distance. It offers some basic navigation capabilities too, such as marking points on the map and then helping navigating towards them.
I found the basic features to be more than adequate for normal use. While running, I found myself often checking the display to find out how far, how fast, and how long I had been running. The display is fully configurable, allowing you to choose what data to show.
It is possible to set distance, time, and pace alarms. I used the distance and pace alarms to set how far I wanted to run and the pace alarm to set a range of how fast I wanted to run. I found that the pace alarm can be annoying sometimes, especially when I ended up in areas where satellite signal was hard to pick up. The pace alarm went off even though I didn't deviate from the desired pace, due to bad reception. However, this didn't affect the accuracy of distance calculation, or any other functionality of the receiver.
The Forerunner 205 can be connected to a computer with a USB cable to recharge its battery and download GPS data. This means that it is possible to use the Forerunner as a normal GPS receiver. When I plugged it into my laptop, the kernel immediately recognised the device and loaded the garmin driver module. I will look into using this with GPS navigation software such as GpsDrive. The software that ships with the unit is unfortunately Windows only.
I am very pleased with my Garmin Forerunner 205. I definitely recommend to anyone needing to track how far and how fast they run (or cycle, walk, skate, etc).