swiss shoes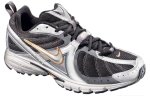 This is going to sound posh, but I just had to get the news out...
Today I went to Switzerland to buy a pair of running shoes. Yes, I know...
Dad knew this mall just past the Italian-Swiss border where they had good quality running shoes at discounted prices, so we drove there in the afternoon to get a bargain.
The shoes are very light and they fit my feet really well. I have already tried them out on a 6.7km distance and was very happy with them.
And, no, they don't stink of Swiss cheese.